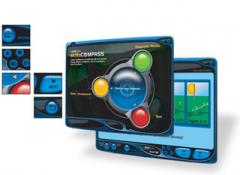 163 software lessons and 2 locator tests that cover over 600 topics in reading, writing, mathematics, and workplace skills for adults.
Teaches workforce skills with job-oriented graphics.
English and Spanish narration.
Simple controls designed for non-computer-literate users.
Windows-based, interacive, self-paced program.
How can skillsCompass™ advance my career?
skillsCompass™ shows the way to better job opportunities.
skillsCompass™ was originally developed to improve the basic skills of thousands of new recruits in the U.S. Army. Today it is helping workers at all levels to qualify for today's more challenging and better paying jobs. The results show that skillsCompass™ is very effective in preparing adult learners for jobs and additional technical training.
If you'd like to learn more about LearnScape's SkillsCOMPASS for your organization, call us toll-free at 888-833-5535 or contact us.
---
Numbering and Counting

Match Numbers with Word Names and Models
Write Numbers in Sequence
Order Numbers in a Specific Sequence
Identify the Greatest or Least Number from a Set of Numbers
Identify Ordinal Numbers

Place Values
Round Numbers
Count Forward or Backward by a Given Number and Determine the Next Number in a Series
Match Positive or Negative Numbers or Points with Tick Marks on a Number Line
Linear, Weight, and Volume Measures

Interpreting the Markings on a Linear Scale
Identify Units of Measure and Classify According to Type of Measure
Length and Distance Measurement
Identify Measures of Weight, Pressure, and Torque

Identify Measures of Volume and Capacity
Measure with Non-numerical Calibrated Scales
Estimating Lengths and Distances
Degree Measures

| | |
| --- | --- |
| Identify Degrees as Units | Estimating the Measure of Angles |
Time-telling Measures

Interpret 24-hour Time
Using the Clock to Indicate Direction

Estimate Time
Express Time Using Decimals
Gauge Measures

Read and Interpret Gauges
Use Gauges with Digital Readouts
Read a Color Band Gauge
Gauges with Positive and Negative Measures
Read and Interpret Multi-scale Gauges

Match a Gauge Reading to a Specification
Read and Interpret Unnumbered Gauges
Read a Moving Gauge
Adjust Gauges to Meet Specifications
Spatial Relationships

Identify Directions that Things May be Moved
Align Parts and Equipment

Interpret Spatial Relationships
Relate Symbols to What They Represent
Lines

Identify Points, Lines, Line Segments, and Rays
Identify Parallel, Intersecting, and Other Lines

Identify Perpendicular and Intersecting Lines
Superimpose Lines
Planes

Identify Geometric Shapes
Identify Characteristics of Plane Shapes
Use Descriptors to Identify Objects

Match Objects and Drawings Using Distinct Features
Identify Positions of Objects
Angles and Triangles

Identify Angles
Identify Types of Angles
Identify Types of Triangles

Draw Bisectors and Altitudes
Label Angles
Solids
Recognize Solid Figure Shapes
Terminology

| | |
| --- | --- |
| Identify Shape and Position Terms | Identify Spatial Orientation Terms with Positions |
Addition and Subtraction

Add and Subtract Whole Numbers without Carrying or Borrowing
Add and Subtract Whole Numbers with Carrying or Borrowing
Add and Subtract Decimals
Add and Subtract Positive and Negative Numbers

Add and Subtract 24 Hour Time
Increase and Decrease Values on Measuring Instruments
Add and Subtract Measurements
Estimate a Sum or Difference
Multiplication and Division

Multiply and Divide Whole Numbers
Multiply and Divide Decimal Numbers
Divide Numbers with Decimals

Multiply and Divide Negative and Positive Numbers
Estimate a Product or Quotient
Fractions and Decimals

Estimate Fractional Length, Area, Volume, and Distance
Reduce Fractions to Lowest Terms
Use a Conversion Table to Convert Decimals and Fractions

Convert Decimals, Percents, and Fractions
Add and Subtract Fractions
Multiply and Divide Fractions
Estimate Fractional Parts Using Common Fractions
Geometry

Draw Plane Geometric Figures
Match Geometric Figures to Their Names
Identify Parts of Geometric Figures
Compute the Area and Perimeter of a Rectangle
Compute the Area and Circumference of a Circle

Compute the Area and Volume of Rectangular Solids
Use Formulas to Solve Problems Involving Geometric Figures
Read Voltage, Voltage Difference, and Time Duration from an Oscilloscope
Combination of Processes

Compute Averages
Solve Problems Combining All Processes, Using Whole Numbers, Mixed Numbers, and Fractions
Solve Problems Using Units of Measurement

Get Information from Number Lines, Graphs, Tables, and Scales
Solve Conversion Problems
Solve Problems Involving Ratio and Proportion
Use Word Problems
Algebra

Solve Simple Algebraic Equations
Derive Equivalent Algebraic Equations

Calculate with a Pocket Calculator
Trigonometry
Using Trigonometric Tables
Procedural Directions

Follow and Develop Written Instructions
Select Text and Visual Materials
Follow Directions

Find Main Ideas
Use Written Materials to Make a Decision
Synthesize Information to Solve a Problem
Vocabulary

Recognize Meanings of Common Words
Identify the Meaning of a Word from Context
Identify Meanings of Contractions and Abbreviations

Determine the Meaning of Figurative Language
Recognize Meanings of Radio and Topographical Terms
Reference Skills

Locate and File Information Alphabetically
Locate Information from a Table of Contents, Index, Appendix, and Glossary
Locate Title, Page, Paragraph, Figure, or Chart

Skim or Scan for Relevant Information
Locate Information to Perform a Task Using Cross References
Organize Information from Multiple Sources
Tables and Charts

Find Information in Two-column Tables
Find Information in Tables with Rows and Columns

Find Information in Complex Tables
Use Troubleshooting Tables
Illustrations

Read Illustrations
Use a Key, Legend, or Parts List
Read and Use Cross-sectional Illustrations
Use a Three-dimensional or Exploded View Illustration to Complete an Action

Use a Sequence of Illustrations to Follow a Procedure
Integrate Visual Information to Select a Course of Action
Flowcharts

Identify the Meaning of Flowchart Symbols
Use Flowcharts to Make Decisions

Use Organizational Charts to Identify Members of Organizations
Schematics

Use Block, Wiring, and Schematic Diagrams
Identify Component Symbols
Trace Circuit Paths on a Schematic Diagram

Use Troubleshooting Tables and Schematic Diagrams
Identifying Parts of Schematic Diagrams
Forms

Find Parts on a Form
Fill in Numbers on a Form
Fill in Information on a Form

Write Descriptive Information on a Form
Locate and Compare Facts on a Form
Note Taking

Introduction to Note Taking
Basics of Note Taking

Record Information Using Sentences
Outlining

Identify Major and Subordinate Topics
Write Titles Using Main Ideas

Select Appropriate Details for Main Ideas
Label the Parts of an Outline
Report Writing

Introduction to Report Writing
Four Steps for Report Writing
How to Make a Decision and Justify it in a Report

Report Organization
Write a Report
Editing

Spell Frequently Used Words Correctly
Identify Words that Need to Be Capitalized
Use a Reference Source to Correct Misspellings

Apply Punctuation Rules
Apply Common Rules of Grammar
Rewrite Paragraphs
Improving Written Clarity
Recognition

Identify Similarities and Differences among Objects
Identify Defects or Damage to Equipment
Move, Align, and Connect Objects

Identify Objects by Their Characteristics
Use Your Senses to Determine a Course of Action
Interpret and Use Symbols and Codes
Learning Strategy Modules

Motivational Skills
Problem Solving
Problem Solving - The 4 Cs
Reading Strategies, Part 1

Reading Strategies, Part 2
Test Taking
Time Management